Enhanced Print Management with ScrewDrivers® 7.5 on IGEL Platforms
In recent years, ScrewDrivers® has been extending its capabilities on Linux, targeting an all-encompassing approach to print management that spans various platforms, clients, and infrastructures. The release of ScrewDrivers 7.5 furthers this objective, offering specialized distribution options for Linux, particularly for IGEL systems.
Introducing ScrewDrivers Pro: A New Benchmark for Linux Printing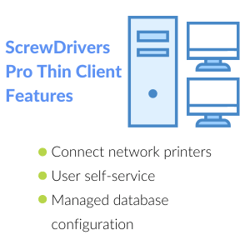 While the ScrewDrivers Endpoint Client has been compatible with Linux and IGEL for several versions now, it previously focused on utilizing locally connected CUPS printers to map to virtual printers in remote desktops and applications. The newly launched ScrewDrivers Pro advances this by bringing features previously exclusive to the Windows agent to Linux thin clients. This includes the ability to connect to network printers, offer user self-service, and integrate with the managed configuration database.
Local vs Remote Printing: Breaking Down the Use Cases
Traditional thin clients primarily serve as a conduit to remote desktop environments. In this setup, printing tasks are managed by mapping the local CUPS printer to the remote session, using a virtual print driver.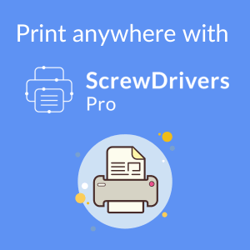 However, there are instances when thin clients run local applications, such as a web browser for Software-as-a-Service (SaaS) applications. In these situations, printing directly from the local Linux device becomes necessary. ScrewDrivers Pro elegantly handles this by connecting to the configuration database and dynamically constructing local print queues based on user needs.
Moreover, ScrewDrivers Pro empowers users with self-service options on IGEL devices, introducing the ScrewDrivers Printers app for user-directed print queue management. If a user adds a new printer, the system instantly configures it for local application use.
Tailored Solutions for IGEL Systems
Both ScrewDrivers Endpoint Client and ScrewDrivers Pro are initially available for IGEL OS 11 and UMS 6, and are currently in the approval process for the forthcoming IGEL 12 "Cosmos" version. These applications will be accessible through the IGEL App Portal once approved.
For deployment, administrators can roll out the ScrewDrivers client on IGEL systems via the Unified Management Suite (UMS). This process pushes the agent to endpoints, making it easier for users to engage with the platform. Users will notice the ScrewDrivers Printers icon appear on their desktops, which will prompt them for ScrewDrivers Gateway and Active Directory credentials, thereby authenticating them and retrieving their custom print assignments.
In summary, the expanded capabilities of ScrewDrivers in the IGEL ecosystem make it an increasingly compelling choice for businesses seeking comprehensive, user-friendly print management solutions.
Ready to learn how Tricerat can simplify your printing workflows? Request a demo to speak with one of our printing experts.
2023-09-07